So, I've got a few new orchids I've recently added to the fold, and I'm still relatively new to the whole "identification of pests and diseases" in these plants (so far I've had good luck avoiding them!), so I could really use some advice here

.
One of the new additions is an Encyclia, and in the last week or so has got me a little concerned about what could be happening to two of her leaves.
The first leaf pictured below had a crack splitting the spine of the leaf before I purchased her (I assume this was due to a little dryness and leaf bending, which punctured a hole in the leaf). Recently this crack turned brown around the surrounding area, and the leaf has gone yellow. Nothing mushy or wet, and the plant is otherwise in good health and happily blooming. Should this be cause for concern, or simply a leaf that is irreversibly damaged and about to drop? I know it's normal for orchids to lose some leaves when they acclimate, but this particular leaf is on one of the newer pseudobulbs, which has me a little spooked. Here are some pics:
And another:
Also, elsewhere on the plant (one of the backbulbs), I noticed the leaf turning brown, so I trimmed it back with scissors I disinfected with isopropyl alcohol. I neglected to put cinnamon on it, and it looks like it's browning again. Any thoughts?
Please tell me these aren't fungi or a virus!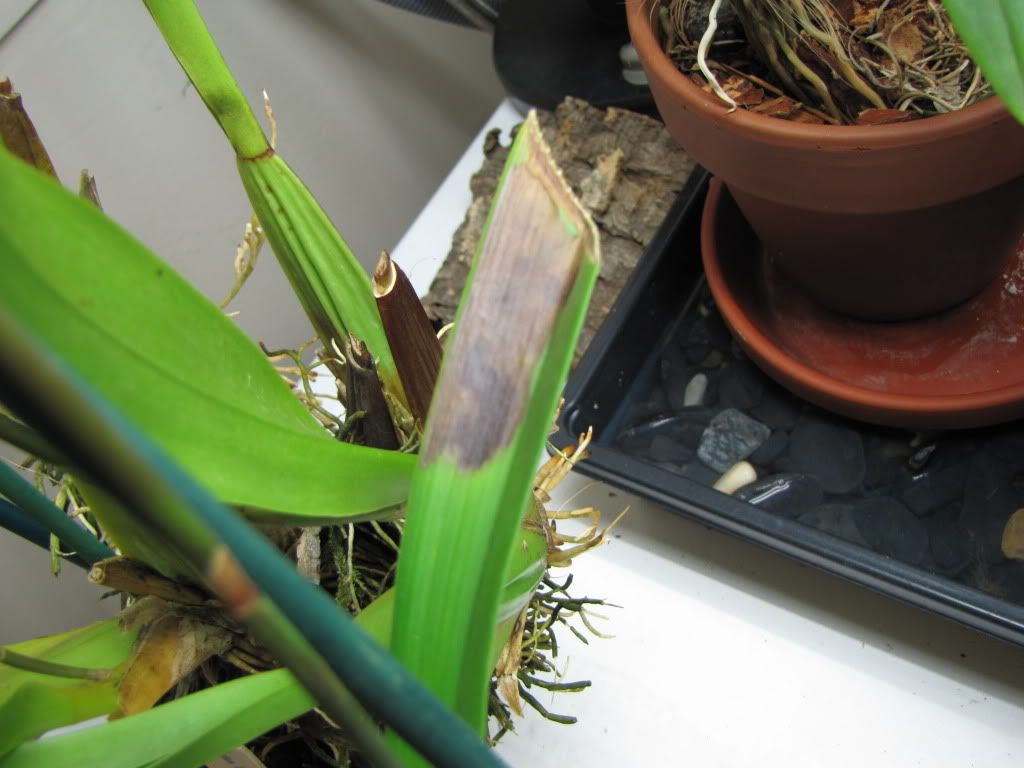 Thanks!
Sweet Adeline