My water here is quite pure, but is chlorinated using sodium hypochlorite for 4 months of the year and chloramine for the rest. It's also has some pretty strong sulfur smell on occasion.
After getting a water analysis done, I decided to install a large-volume carbon filter on the water supply used for drinking, ice and cooking. Then it occurred to me I could do something similar for my plants, so I rigged up a filter that just goes right in line with my irrigation hose - disconnect the hose from the spigot, attach the short hose and reconnect my garden hose to the outlet and away I go!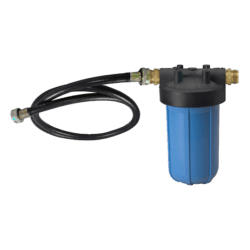 For scale, the canister is about 13" tall and 10" fitting to fitting.
They are easy to make, but I am offering them
for sale
with a 9000-gallon cartridge installed, a spare cartridge and canister wrench.