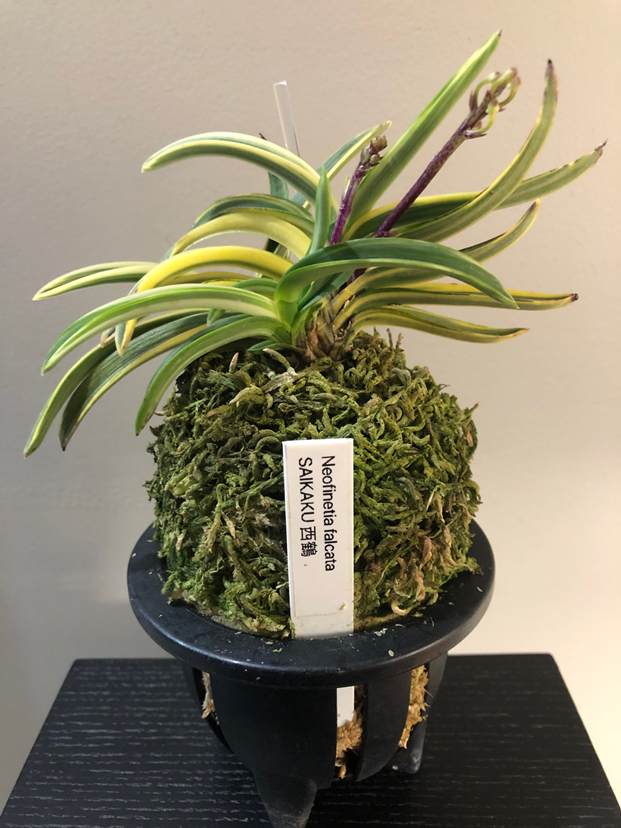 Saikaku may be my favorite neo, so I felt inspired to share. I don't read Kanji, so corrections and additions are welcome.
The following is from the records I keep on all my neos.
Saikaku
(西鶴) is a unique stable high-end medium-size variety with a very thick stem and dynamic, strong, very wide, ridged
wankyokuba
, serpentine leaves. The wavy curves of the leaves often give the appearance that the orchid's motion was captured in a freeze-frame photograph. The stable white
fukurin
variegation includes
Kirikomi jima
cutting in stripes. Like its progenitor,
Nishidemiayako
, the flowers are large for the size of the plant.
Saikaku
is a sport mutation of the well know, mutation-prone, and widely collected sterile clone,
Nishidemiyako
. The only significant traits it shares with its progenitor are large flower size and
Kirikomi fukurin
stripes.
According to one source, there may be two
Saikaku
types, large and small, but it may also be that this difference depends on the growing conditions.
Saikaku
was originally named
Gyokuryū
, which means "ball dragon" (whatever that is).
There are two variants in my collection:
Saikaku 西鶴 - Standard type, described above.
Saikaku-Manazuru
西鶴 - 真鶴 - (photo attached) This variant has the
Nakasuke Konpuku
inverted fukurin pattern with green margins and white center. The Japanese word
tsuru
(鶴) means "crane" and is often used to name of
nakasuke konpuku
varieties, especially those mutated from the Nishidemiyako group. The direct translation of
manazuru
is "white-napped crane", referring to the inverted.
The inverted presentation on the individual I own may or may not be stable, though the seller stated that the new green fans would get better variegation with maturity
Nishidemiyako
often put out
Manazuru growths,
but many Manazuru growths will turn to yūrei as they mature. The green fans on this plant may very well develop as
Saikaku
or
Nishidemiyako
sports. The Kanji character "鶴" in 'Saikaku (西鶴)' does not indicate the
nakasuke konpuku
trait.
-Keith